War Film Vehicles, Aircraft, Ships and Weapons
On this thread we will be posting 'mistakes' in war films where the real life equiptment has been substituted for more easily available alternatives.
DISCLAIMER: If you are a big fan of
Tora! Tora! Tora!
,
The Battle of Britain
,
Kelly's Heroes
or
The Battle of the Bulge
or just wish to maintain an air of blissfull ignorance this thread is not for you, YE BE WARNED!
Period ships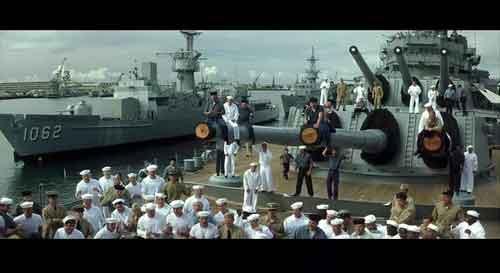 Strange, having missiles on a WW2 destroyer...
In the age of CGI (although I do prefer models don't like CGI much) there is no excuse for using modern ships, this one is from
Pearl Harbour
, but look at any film involving naval warfare and its the same, it seems that directors don't seem to take much notice when it comes to ships. Also is that an Iowa class, I don't remember them being at Pearl Harbour on that fateful day in December 1941. Now to some of you this may seem nitpicky, but then again in Titanic they actually built a full size Titanic set, although that film was actually about the event in question, Pearl Harbour was just a cheesy love story in a war setting.
BF-109's
Maybe Spain wasn't as neutral as we all thought, it appears they had been supplying the Luftwaffe.
In
The Battle of Britain
, Spanish HA-1112's were used to play the BF-109's, the only obvious difference is the engine cowling and some variants used the Merlin engine, strange. You may have also noticed Spitfires with two radiators on the underside of their wings (early Spitfires should have one radiator and 1 oil cooler, which is basically a cylinder shaped thing), early Spitfires, and also the hurricanes should only have 3 exhausts on either side.
Mitsubishi Zero's
They don't really look that scary, especially when you take into account that they are usually painted bright yellow.
This aircraft is in fact a Harvard/Texan trainer (I think Harvard/Texan are basically the same) which was used in the film
Tora!, Tora!, Tora!
to portray a wide range of Japanese aircraft, the Harvard has also been used to portray FW190's, and as we will see below the Thunderbolt.
P 47 Thunderbolt
Another use of the Harvard/Texan is as P47 Thunderbolt's in
Kelly's Heroes
and the
Bridge too Far
, I think even
Das Boot
has them in the last scene of the film (along with, if I remember correctly footage from the Halls of Montezuma?). The chances are if there is a film portraying Allied ground attack aircraft they will have been substituted by the not-so-scary Harvard (Texan).
Halftracks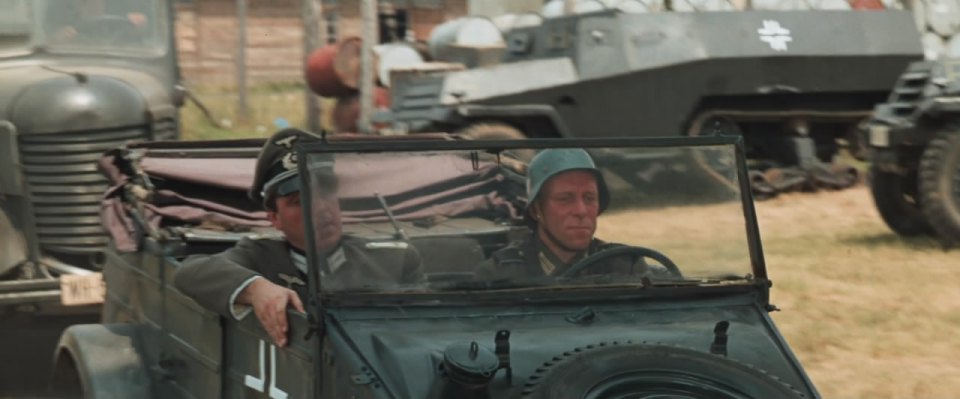 Contrary to popular belief the USA did not supply the Germans half-tracks through lend-lease, I know I can't believe it myself, their airforce was nicknamed the American Luftwaffe and everything. The makers of
Kelly's Heroes
thought they could get away with it with a liberal application of ply wood and a thick coat of grey paint (well at least they tried), another problem is German vehicles were only grey during the first few years of the war. Almost every single war film involving German halftracks, actually uses the American M3.
German uniforms
Come on film makers no more grey uniforms and highly polished jackboots, its 1944 not 1934!
Every war film falls into Germans= grey uniforms trap, the Germans were well acquainted with the art of camouflage and they were very good at it. A lot of infantry would wear the field grey uniform, but many would wear combat smocks, more specialised units would such as panzer grenadiers would wear fully camouflaged clothing.
Karabiner 98k
Unless that is a whole platoon of squad and platoon leaders someone in the props department needs to do some research. This time it is from
Kelly's Heroes
but you can also find whole battalions of Mp 40 armed Germans in
Where Eagles Dare
, and any other film from that period. Guess those K98k's and Mg 42's (the German army was based around the light machine gun, there should be one for every squad and a lot of Germans running round with ammunition belts) were too expensive. I think you'd consider yourself lucky to hit a barn door with an Mp 40.
The Martini Henry
Is that a Short Magazine Lee Enfield? Only about 30 years too early...
There obviously weren't enough Martini Henry's on set when
Zulu
was being filmed, look very closely and you'll see some Lee Enfields. I would also like to know why all the British have white helmets, they should be khaki.
M1 Garand
Wait, is that a Lee Enfield No. 4? Bit of reverse Lend-Lease going on here, but I can't blame those Americans Lee Enfield No. 4's are great, this picture is from
Kelly's Heroes
.
Springfield Rifle
Looks like the Russians were doing a bit of reverse Lend-Lease as well! This time with the sniper version of the Mosin Nagant 91 30. Some rather far-fetched stories in defence of
Kelly's Heroes
have been suggested such as the rifle was captured of a German soldier who had taken it from a Russian, the only problem is that the K98k which the German would have had in the first place was far superior to the Mosin Nagant (alas, still nowhere near as good as a Lee Enfield No.4!). Also a MN91 30 is a lot less expensive than a Springfield, not that I am suggesting Kelly's Heroes is low budget or anything.
HMS Hood and the Bismark
The British Kreigsmarine thats new...
This is a picture of HMS Vanguard which was Britain's last battleship. Some of you may recognize her as the Bismark from the film
Sink the Bismark
. The scenes with the close ups of the guns are all of Vanguard.
Tiger II
M47 Patton being used as a Tiger II in the
Battle of the Bulge
. This film confused me especially in the fight scenes where the American German tanks were fighting the American American tanks. To make matters worse the German tanks are the wrong colour, they should have a cream base with green and brown over the top, or as it was winter just white.
A person from the society who may, or may not have been on the Rochester Ramble, who I can't remember the name of once said:
"Every war, is fought in America, by Americans agaisnt the Americans"
wise words, wise words, particularly if you have ever watched
The Green Berets
, who would have thought that Vietnam is full of fur trees and deciduous forests!
M4 Sherman
This one is inexcusable given the abundance of the M4 Sherman tank, for some reason the makers of the
Battle of the Bulge
decided that the Chaffee was better, same goes for
The Bridge at Remagen
. There were Chaffee's serving in WW2 but they were light tanks and were not the mainstay of the US army. We don't know why the producer's liked the Chaffee so much, prehaps they were in the pay-roll of General motors.
Tiger Tanks
The Americans in
Kelly's Heroes
and
Saving Private Ryan
needn't have been scared, the Tigers in the film were in fact T-34's and if Korea is anything to go by they had nothing to worry about. It also explains how Tom Hanks was able to blow it up with a pistol. I think most people can probably forgive this one given the number of working Tiger I's in the world, there is one in Bovington. But my moto is if you can't find a real one, don't have one at all. Also in Saving Private Ryan there is also a scene where the Americans stick their Thompsons through the drivers viewport and open fire, the only problem was, is that real Tiger's had armoured glass.
Panther... I think?
From the film
Big Red One
here we have an Israeli Super Sherman mocked up as a German tank with not-so-historically accurate battleship grey, surrounded by Germans in their classic (inaccurate) field grey uniforms I think this scene is meant to be North Africa so why is everything grey!
Jagdpanther? JgPz IV? who knows?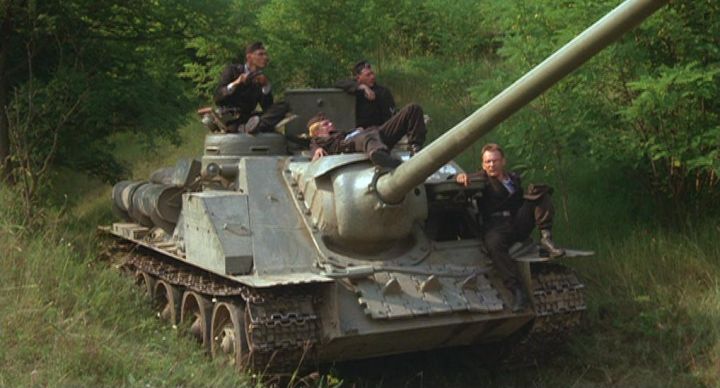 "That's one of ours! It sure is, and it's a terrible paint job. You can still see the cross! ... Ivan's pinched my tank!"
Sorry mate, I think it is the other way round...
Here is a scene from the
Misfit Brigade
, which contained one of the worst vehicle substitutions I have ever seen. SU 100's were used as Jagdpanthers, but the Soviets in the film also used SU 100's as SU 100's.
Jagdpanther, again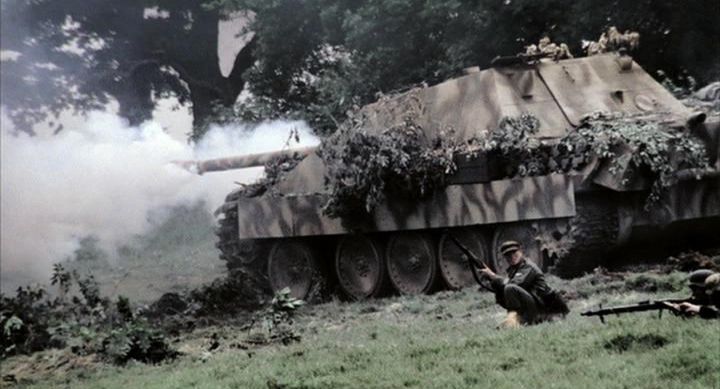 Here is a T 55, oh sorry I mean Jagdpanther from
Band of Brothers
. This is probably one of the better examples of substitute vehicles as they haven't done a bad job, apart from the wheels and suspension, 9/10 well done Band of Brothers.
Zimmerit (the lack of)
From 1943 to 1944 a special anti magnetic mine coating was applied to many German AFV's (for example; Jagdpanzer IV's, Stug III & IV's, Panthers, Jagdpanthers, Tigers, Tiger II's and early Jagdtigers). This feature is however lacking in almost all German AFV's in films. Think of all the films portraying WW2 from 1943 onwards with German vehicles without zimmerit. The Germans stopped applying zimmerit in 1944 because it added extra time to production, and the Germans were the only people who used magnetic mines in large numbers anyway so it was a bit of a white elephant. This means that any film which has D-Day in ti, should probably have a lot of zimmerit coated tanks.
I am sorry I have ruined almost every war film for you, but you were warned at the top of the page, its not my fault you decided to look at the pretty pictures and overlook the disclaimer.